"No matter who you are, or where you are on life's journey, you're welcome here"
We welcome you to our website, one of many opportunities to learn about who we are and what we are about as disciples of Jesus Christ. Please feel free to access more information by using the links on the left side of this page or better yet, come join us for worship on Sunday morning. You will always be welcomed.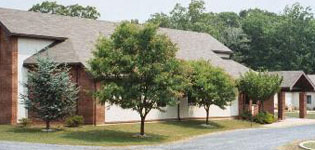 We are currently open to worship in our sanctuary.   Wearing of masks and social distancing are required.  We also encourage you to check in throughout the week as we update the site frequently.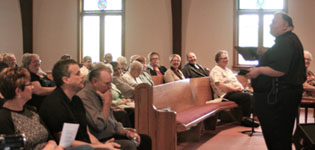 Meet the staff and clergy, read about our history, and find out about ministries and other activities.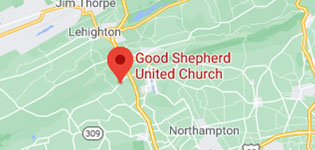 Good Shepherd UCC is located at 3940 Mountain Rd Slatington, PA 18079.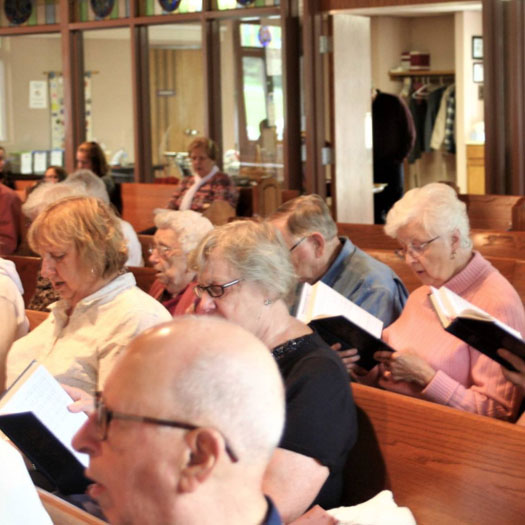 We are open for in-person worship for those who are comfortable gathering in larger groups. We recognize and affirm that there are those in our wider congregation who are not yet comfortable doing so because they are in a high-risk group, and others who worship online with us because of distance or other equally valid reasons.
Good Shepherd is a faith community that gathers around Word and Sacrament to be nourished, called, and sent into God's world in witness and service to others in the name of Jesus Christ. We have limited our seating for services in the Scantuary.  Masks and social distancing are required.   All are welcome!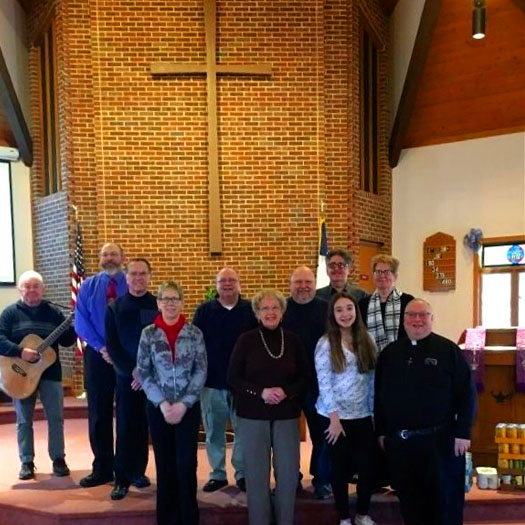 Good Shepherd News Center
GOOD SHEPHERD
3940 Mountain Road, Slatington, PA  18080 610-767-9680
                                                                June 20, 2021
A Glance at the Week Ahead at Good Shepherd
Sun:         9:00 am     Faith Formation Classes
10:00 am     Worship Service
                                  Fathers' Day
                                  Organ Special Offering
              10:45 am     Faith Formation Meeting
Vacation Bible Study (VBS)      Meeting
                                  Scrip Orders Delivered
Mon:     6:00 pm       Girl Scout's
Tue:     10-3              Office Hours
Wed:    10-3              Office Hours
6:30 pm       Financial Peace University (FPU)
Thurs:  10-3              Office Hours
7:00 pm       AA Back to Basics
Sun:       9:00 am       Faith Formation Classes
10:00 am       Worship Service
First-Time Guests
Welcome to Good Shepherd United Church of Christ.  We are delighted that you joined us for worship.  It is our prayer that you will experience the presence of God and know the love and peace that comes from sharing God's Spirit. If you are looking for a spiritual home, please consider Good Shepherd. If you are interested in church membership, please speak with Pastor James.
REV. JAMES D. ROBISON, JR. can be contacted at the church office (610) 767-9680, his mobile phone (484-571-6083), or via his email address at <j[email protected]>.
Virtual Worship Services thru Facebook Live-Streaming through our Facebook page http://www.facebook.com/GSUCC.Slatington or Subscribe to our YouTube channel, http://www.youtube.com/channel or thru our Website at https://GoodShepherdUCCSlatington.org.
For More Information: www.goodshepherduccslateington.org
Upcoming Events in the Life of Our Church and Denomination
Little Shepherd's Summer Camp sessions are July 19-22; and August 9-13. Both sessions are 9:00 am – 12:00 pm. Parents of children aged three through seven are welcomed to register with Karen Weaver, the pre-school teacher.  Text or call 610-657-5133
Vacation Bible School begins August 1st and runs until August 5th, 5:00 pm – 8:00 pm. The children will enjoy classes, crafts, activities, and a small supper, Monday – Wednesday. The closing program is Thursday, August 5th, at 7 pm.
Financial Peace University 2021 ~ FPU is a nine-lesson class that will teach you how to pay off debt, save, and invest in your future. You will connect with others, like yourself, who can hold you accountable, encourage you, and celebrate your progress. If interested, send an email to fpu.com/1122881. Class began June 16 and goes through August 11, 2021 (6:30-8:00).  It's not too late to join!  You can catch up via videos.
Opportunities
Altar Flowers & Bulletins are given in the Honor and Glory of God. To honor someone with altar flowers, or to sponsor a bulletin, please place your name on the calendar in the narthex. Contact Julie Solt with any questions.
Beth Kutzner, the Choir Director, is looking for people with musical talent to fill Summer Sundays' Special Music If you would like to participate, contact Beth at

[email protected]

or call 570-240-0044. It's a great group to be part of ~ friendship, laughter, and support are practically guaranteed!
Our Worship Leaders Today
Pastor                                                                   Rev. James D. Robison, Jr.
Organist                                                                                   Marion Straub
Choir Director                                                                            Beth Kutzner
Acolyte                                                                                      Noah Griffith
Lay Reader                                                                            Marie Bachman
Head Deacon                                                                               Eddie Smith
Head Elder                                                                                   Pam Puskas
Altar Guild                                                                                       Julie Solt
Media Production Team            Deb Craig, Stacy Cunningham, Eric Hantz
Bryan Horninger, Evan Horninger, and Beth Kutzner
The altar flowers are presented to the glory of God and in honor of Good Shepherd's Treasurer, Cheryl Tully, by the Consistory and Congregation. Cheryl is retiring. The Bulletin presented to the glory of God and in memory of Emma Sensinger's birthday.
Good Shepherd Prayer Care List
Please pray for…
The Family of: Sandra Endres
Family and Friends needing prayer: Patty Sager, Betty Humanick, Susan 'Tillie' Waller, Frances Kuntz, Edgar Smith, Connie Konnick, Donna Fox, Janet German, Pat Reimert, Debbie Silfies, Mason Post, Eileen Andrews, Lisa Gilly, and Rev. Allen Miller.
Blessings for Julia Mary Gledhill, born June 12, 2021 to Lauren & Kevin Gledhill and is the great granddaughter of Madeline Balliet.
Homebound Members: Mary Bilheimer, Kay Costenbader, Dolores Gruber, Freda Horn, and Susan 'Tillie' Waller.
All the young men and women serving our country: Colby Adams, Anthony Babb, Elijah Colon, Dalton Housenick, Kira (Kern) Kelsey, Michael Kelsey, Rebecca McMichael, Cory Musser, David Neff, Nicholas Sander, Benjamin Schaffer, Jacqueline Tracy, and Janel Tracy.
F.Y.I.
If you, or someone you know, is dealing with domestic violence, contact the Turning Point HELPLINE at (610) 437-3359.
If you, or someone you love, are having suicidal thoughts, contact the National Suicide Prevention LIFELINE at 800-273-8255.
Good Shepherd's Fellowship Hall is the perfect venue for your event.  The hall has the capacity to hold 210 people.  For more information, call Madeline Balliet at (610) 769-0810.
Get Involved
The Faith Formation Team is looking for people who are interested in helping others experience a richer, fuller faith-journey. If you are interested, please contact Deb Craig or Pam Puskas.
Anniversaries
June 21 ~ Kenny & Pat (Romig) Reimert
June 22 ~ Bruce & Lori (Frantz) Balliet
June 23 ~ James & Laura (Parks) George
June 24 ~ Terry & Susan (Schlosser) Shelly
June 26 ~ Eric & Michelle (Meckes) Walters
Offerings
Mission Calendar
Our Mission focus for June is the Northern Lehigh Food Bank. The NLFB can make the difference between having a meal or going hungry.  If you would like to participate in our offering, please sign the Mission Calendar in the narthex (in the blue folder on the bulletin board), add the name of a loved one you would like to honor or remember, your name, and then place a donation in a designated envelope and put it in the Faith & Mission box or offering plate.
Joyful Noise Offering
Joyful Noise Offering is designated to help our Youth Ministry.  During the pandemic.  We ask that you drop your coins into the glass jar, which contains a disinfectant.  If you prefer to donate using paper bills, please put them into the shoebox, next to the jar.
Financial Update
Offering & (Attendance)
May 16 $1,181.00 E-giving $520.00 (59)
May 23 $1,263.00 E-giving $439.12 (55)
May 30 $2,269.00 E-giving $345.00 (60)
June 06 $1,118.01 E-giving $339.12 (43)
June 13 $1,853.00 E-giving $330.00 (61)
Birthdays
June 20 ~ Kala Farber
David Neff III
June 21 ~ Joanne Feller
June 22 ~ Randy Kresge
Dolly Kuntz
June 24 ~ Dale Boyer
                 Dennis Boyer
Holden White
June 26 ~ Greg Koneschusky
Order of Worship
June 20, 2021 – Fourth Sunday after Pentecost
Gathering for God's WORD
WELCOME
Preparing Our Hearts for God's WORD
THE APOSTLES' CREED
I believe in God, the Father almighty, creator of heaven and earth.
I believe in Jesus Christ, his only Son, our Lord, who was conceived by the Holy Spirit and born of the virgin Mary.  He suffered under Pontius Pilate, was crucified, died, and was buried, he descended into hell.  The third day he rose again from the dead.  He ascended to heaven and is seated at the right hand of God the Father almighty.  From there he will come to judge the living and the dead.
I believe in the Holy Spirit, the holy catholic church, the communion of saints the forgiveness of sins, the resurrection of the body, and the life everlasting.  Amen.
HYMN ~ O Master, Let Me Walk with Three (Verses 1 &3, page 602 in Chalice)
Verse 1 ~
O Master, let me walk with thee in lowly
Paths of service free; tell me thy secret;
Help me bear the strain of toil, the fret of care.
Verse 3 ~
Teach me thy patience; still with thee in closer,
Dearer company, in work that keeps faith
Sweet and strong, in trust that triumphs over wrong.
HONORING OUR GRADUATES
APPRECIATON & FAREWELL TO OUR TREASURER
Hearing God's WORD
A READING according to the Gospel of Mark 4:25-41 [NRSV]
On that day, when evening had come, he said to them, "Let us go across to the other side."  And leaving the crowd behind, they took him with them in the boat, just as he was.  Other boats were with him.  A great windstorm arose, and the waves beat into the boat, so that the boat was already being swamped.  But he was in the stern, asleep on the cushion; and they woke him up and said to him, "Teacher, do you not care that we are perishing?"  He woke up and rebuked the wind, and said to the sea, "Peace! Be still!" Then the wind ceased, and there was a dead calm.  He said to them, Why are you afraid? Have you still no faith?" And they were filled with great awe and said to one another, "Who then is this, that even the wind and the sea obey him?"
Reflecting on God's WORD
HOMILY- Authentic Leadership
SPECIAL MUSIC ~ May the Circle Go Unbroken
performed by: The Youth Fellowship Bell Choir
PRAYERS OF THE PEOPLE
THE LORD'S PRAYER
Our Father which art in heaven, hallowed be Thy name. Thy kingdom come, Thy will be done in earth, as it is in heaven. Give us this day our daily bread.  And forgive us our debts, as we forgive our debtors. And lead us not into temptation but deliver us from evil: For thine is the kingdom, and the power, and the glory, forever. Amen.
Responding to God's WORD
INVITATION TO SHARING OUR TITHES AND OFFERINGS
As we live in the season of Pentecost, we have an opportunity to share in our commitment and dedication to listen and follow Christ.
DOXOLOGY
Praise God from who all blessing flow
Praise God all creatures here below.
Praise God above ye heavenly host;
Creator, Christ, and Holy Ghost. Amen.
PRAYER OF DEDICATION
We offer ourselves and our resources to the care of community in this space and around the world, in the way St. Paul taught ~ as servants adapting our hearts to show love to those who are unfamiliar to us.  Amen!
Living God's WORD
THE COMMISSION, BENEDICTION, AND THREE-FOLD.  AMEN          
CCLI# 1783708
Graduate Sunday 2021
June 20, 2021
Graduate Biographies
MEGAN BANKES, daughter of Michael and Susan Bankes, graduated June 7, 2021, from Palmerton High School.  She plans on going to Glenville State in West Virginia to study Criminal Justice.
CARISSA FALLON, daughter of Craig and Sheri Fallon, graduated June 7, 2021, from Palmerton High School and will be going to Penn State, Harrisburg.  She will be enrolled in Capital Honors College with a major in Marketing and a minor in Spanish.  During her time in college, Carissa plans to continue to play soccer.
BEN GRIFFITH, son of Jonathan and Monica Griffith, graduated June 4, 2021, from Northwestern High School.  He plans to enter Wilkes University where he will major in nursing.  Ben's grandparents, John and Susan Zellner, are members of Good Shepherd UCC, as well.
EVAN HORNINGER, son of Bryan and Amy Horninger, graduated June 11, 2021, from Northern Lehigh High School.  He plans to attend DeSales University for Sports and Exercise Physiology.
ARIANA SMOYER, daughter of Ryan and Alana Smoyer, graduated June 11, 2021, from Northern Lehigh High School.  She plans to attend Metro Beauty Academy in the fall in their Esthetician program.  She is also considering Massage Therapy, and then going to LCCC for a Business Entrepreneurship Certification.  Ariana's grandparents, John and Susan Zellner are members of Good Shepherd UCC, as well.
CALEB SOMMERS, son of Chad and Jennifer Sommers, graduated June 7, 2021, from Palmerton High School.  She received, and accepted, an academic scholarship at Kutztown University, where he plans on majoring in Secondary Education to become a history teacher.  Caleb's grandparents, Dennis and Dale Derr are members of Good Shepherd UCC, as well.
PAIGE BACHMAN, daughter of Jennifer Sander, graduated from Kutztown University with a degree in Criminology.  Paige's grandmother, Susie Blose, wife of Carson Blose, is a member of Good Shepherd UCC, as well.