"No matter who you are, or where you are on life's journey, you're welcome here"
We welcome you to our website, one of many opportunities to learn about who we are and what we are about as disciples of Jesus Christ. Please feel free to access more information by using the links on the left side of this page or better yet, come join us for worship on Sunday morning. You will always be welcomed.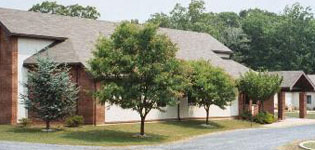 We are currently open to worship in our sanctuary.   Wearing of masks and social distancing are required.  We also encourage you to check in throughout the week as we update the site frequently.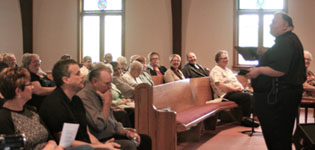 Meet the staff and clergy, read about our history, and find out about ministries and other activities.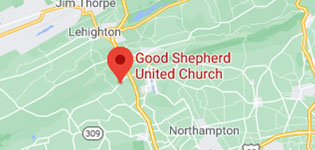 Good Shepherd UCC is located at 3940 Mountain Rd Slatington, PA 18079.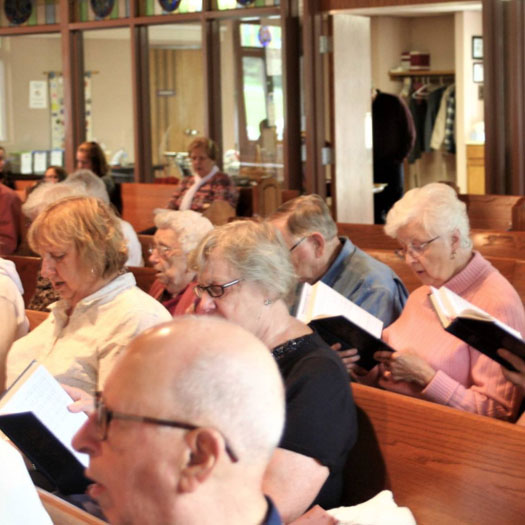 We are open for in-person worship for those who are comfortable gathering in larger groups. We recognize and affirm that there are those in our wider congregation who are not yet comfortable doing so because they are in a high-risk group, and others who worship online with us because of distance or other equally valid reasons.
Good Shepherd is a faith community that gathers around Word and Sacrament to be nourished, called, and sent into God's world in witness and service to others in the name of Jesus Christ. We have limited our seating for services in the Scantuary.  Masks and social distancing are required.   All are welcome!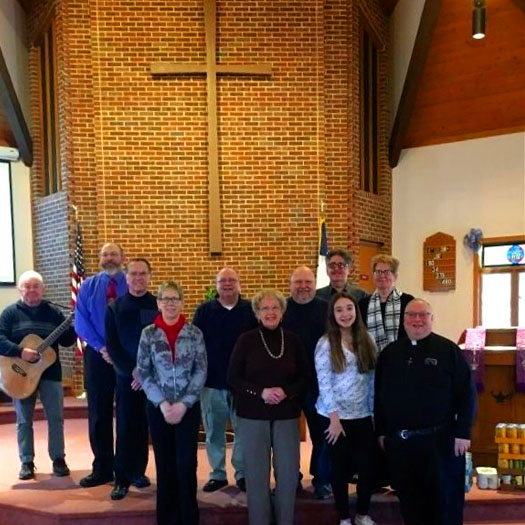 Good Shepherd News Center
GOOD SHEPHERD
3940 Mountain Road, Slatington, PA  18080 610-767-9680
                                                                September 26, 2021
A Glance at the Week Ahead at Good Shepherd
T W T Office Hours: 11 am – 3 pm
Sun:       9:00 am      Faith Formation Classes
10:00 am      Worship Service
              Harvest Home Sunday
             11:45 am      Youth Music Ensemble Rehearsal
12:00 pm      Mission Team Valor
Mon:     5:30 pm      Vitality Meeting/Fellowship Hall
6:00 pm      Girl Scout's
Tues:     7:00 pm      Chancel Choir Practice
Fri:        7:00 pm      AA Back to Basics
Sun:       9:00 am      Faith Formation Classes
10:00 am      Worship Service
                                  World-Wide Communion Sunday
             11:45 am      Youth Music Ensemble Rehearsal
First-Time Guests
Welcome to Good Shepherd United Church of Christ.  We are delighted that you joined us for worship.  It is our prayer that you will experience the presence of God and know the love and peace that comes from sharing God's Spirit. If you are looking for a spiritual home, please consider Good Shepherd. If you are interested in church membership, please speak with Pastor James.
REV. JAMES D. ROBISON, JR. can be contacted at the church office (610) 767-9680, his mobile phone (484-571-6083), or via his email address at <j[email protected]>.
Virtual Worship Services thru Facebook Live-Streaming through our Facebook page http://www.facebook.com/GSUCC.Slatington or Subscribe to our YouTube channel, http://www.youtube.com/channel or thru our Website at https://GoodShepherdUCCSlatington.org.
For More Information: www.goodshepherduccslateington.org
Important Note(s)
Someone from the church will be contacting you to update your information, such as birthdates, anniversaries, etc.  We need volunteers to help Good Shepherd acquire updated information from our members and their family.  If you can help, call (610) 767-9680.
Upcoming and On-going Events in the Life of Our Church and Denomination
A Youth Music Ensemble Rehearsal will take place this morning at 11:45 am and is open to children and youth of all ages. There will be singing, playing handbells and tone chimes. The rehearsals will continue the 2nd, 3rd, and 4th Sunday of each month. Speak to Beth Kutzner, if interested.
Would you be willing to sponsor guest musicians during our special services with a monetary donation? If interested, please put your donation into the offering plate and mark it "Guest Musician."
Slatedale Cemetery Walk, sponsored by Slatington History Preservation Committee on September 25, Saturday, 2-3:30 pm. (Rain Date ~ Sunday, Sept. 26). The history of the cemetery will be presented by President Richard Smith.
We will be blessing our Harvest Home donations today. If you have donations, please place them up front, near the display before service.
During the month of October, we will be gathering names of those who died in the last year. If you would like to submit a photo, please send it to Deb Craig by October 31. Please include your loved one's name, date of birth, and date of death.
Walk-in Two Day Basket Social on Friday, Oct. 22, 3-5 pm & Saturday, Oct. 23, 12-4 pm. Tickets at the door only. (1) 26 chance ticket – $5.00; (4) 26 chance tickets – $15.00. Refreshments available, take out only.
Pork & Sauerkraut Dinner (Take Out Only), Saturday, Oct. 30. Pick up: 2-5 pm. Cost: $10.00. Dinner includes Pork, Sauerkraut, Mashed Potatoes, Applesauce & Dessert. Call the office to place your order. 610-767-9680.
Trick or Treat is on the horizon, keep checking for details.
Our Worship Leaders Today
Pastor                                                                   Rev. James D. Robison, Jr.
Organist                                                                                   Marion Straub
Guest Organist                                                                             Cindy Geho
Choir Director                                                                            Beth Kutzner
Acolyte                                                                             Jazmin Richardson
Lay Reader                                                                           RaeAnne Creyer
Head Deacon                                                                               Eddie Smith
Head Elder                                                                                   Pam Puskas
Altar Guild                                                                            Sharon Conway
Media Production Team            Deb Craig, Stacy Cunningham, Eric Hantz
Bryan Horninger, Evan Horninger, and Beth Kutzner
~~~~~~~~~~~~~~~~~~~~~~
Altar Flowers are in memory of Nancianne Metz, by her family.
Good Shepherd Prayer Care List
Please pray for…
The Families of Judy Fatziner and Celia Sue Andrews
Family and Friends needing prayer: Robert Tully III, Steve Vulcheff, Marion Straub, Kenny Dotter, Lester Bass, June Achey, Kim Rex, Marie Dieter, Verna Meckes , Lois Morrissey, Dana Wallace, Janie Krock, Sally Haas, Mary Alice Snyder, Shirley Smith, Tom Craig, Sallie Solt, Pat Reimert, Debbie Silfies, Lisa Gilly, and Rev. Allen Miller.
Homebound Members: Mary Bilheimer, Kay Costenbader, Dolores Gruber, Jean Hewitt, Betty Humanick, and Susan 'Tillie' Waller.
All the young men and women serving our country: Colby Adams, Anthony Babb, Elijah Colon, Dalton Housenick, Kira (Kern) Kelsey, Michael Kelsey, Rebecca McMichael, Cory Musser, David Neff, Christie Peirsel, Spencer Perkins, Nicholas Sander, Benjamin Schaffer, Jacqueline Tracy, and Janel Tracy.
Prayers for Students in higher education: Megan Bankes studying at Glenville State WV,  Dylan Coffin studying at Susquehanna University, Carissa Fallon studying at Penn State,  Ben Griffith studying at Wilkes University, Evan Horninger studying at DeSales University,  Angie Lopez studying at Widener University, Jade Rice studying at Bloomsburg University, Caden Shields studying at LCCC, Matthew Shields studying at Moravian College, Caleb Sommers studying at Kutztown University, Ariana Smoyer studying at Metro Beauty Academy, and Calista Smoyer studying at West Virginia University.
F.Y.I.
If you, or someone you know, is dealing with domestic violence, contact the Turning Point HELPLINE at (610) 437-3359.
If you, or someone you love, are having suicidal thoughts, contact the National Suicide Prevention LIFELINE at 800-272-8255,
Anniversaries
Sept 29 ~ Rick & Sandy (Teichert) Keller
Sept 30 ~ Gary & Robin (Balliet) Bellesfield
Offerings
Mission Calendar
Our Mission focus for September is the Allentown Rescue Mission. If you would like to participate, please sign the Mission Calendar in the narthex (in the blue folder on the bulletin board), add the name of a loved one you would like to honor or remember, your name, and then place a donation in a designated envelope and put it in the Faith & Mission box or offering plate.
Joyful Noise Offering
Joyful Noise Offering is designated to help our Youth Ministry. We ask that you drop your coins into the glass jar in the narthex. Paper bills can be put into the shoebox, next to the jar.
Roof Offering
We have a brand-new roof! It not only looks impressive, but it will also keep us dry and safe throughout the year. It's a blessing to our church to have such a generous congregation!
Financial Update
Offering & (Attendance)
Aug 29  $1,428.00 E-giving $   120.00 (47)
Sept 05  $2,282.00 E-giving $   120.00 (52)
Sept 12  $1,636.00 E-giving $   210.00 (52)
Sept 19  $1,418.50 E-giving $   612.96
Birthdays
Sept 26 ~ Madison Posivak
Sept 26 ~ Michele Schock
Sept 26 ~ Roxy Pierce
Sept 28 ~ Anna Fister
Sept 29 ~ Nichole Miller
Sept 29 ~ Travis Redline
Sept 30 ~ Diane Fister
Sept 30 ~ Denis Trelease
Sept 30 ~ Sandi Greenzweig
Oct 01 ~  Ryan Fister
Oct 01 ~  Brett Hunsicker
Oct 02 ~  Jesse White
Order of Worship
September 26, 2021 – Eighteenth Sunday after Pentecost
Harvest Home
Gathering for God's WORD
NOTE: People's responses in bold; * rise in body or in spirit
ANNOUNCEMENTS
* SOLEMN DECLARATION
* WELCOME AND CALL TO WORSHIP
Upon this gathering of Your people, pour out Your Spirit, O Lord.
Be near to us and speak to us, and we will proclaim Your glory.  Amen.
*HYMN ~ Come, Sing a Song of Harvest (1st and 4th verses)                             #719
                                                Preparing Our Hearts for God's WORD
*CALL TO CONFESSION
Let us confess our sins and pray for one another so that we may be healed.
*CONFESSION
God, our strength and savior, You know our great transgressions, our hidden faults, our secret sins.  With our hands we grasp at power; with our feet we stumble into evil; with our eyes we look out for ourselves.  Forgive us, gracious God, and lead us in Your holy way of life and love and peace; for the sake of Jesus Christ our Lord.  Amen.
*ASSURANCE OF PARDON
Though we wander from the truth, God brings us back and saves our souls from death.  In the name of Jesus Christ, we are forgiven.
Thanks be to God.  Amen.
*STATEMENT OF FAITH
As members of the Christian Church, we believe in God, the Father Almighty, maker of heaven and earth; And in Jesus Christ.
Hearing God's WORD
A READING according to the Gospel of Mark 16:14-18 [NRSV]
Later he appeared to the eleven themselves as they were sitting at the table; and he upbraided them for their lack of faith and stubbornness, because they had not believed those who saw him after he had risen.  And he said to them, "Go into all the world and proclaim the good news to the whole creation.  The one who believes and is baptized will be saved; but the one who does not believe will be condemned.  And these signs will accompany those who believe; by using my name, they will cast out demons; they will speak in new tongues; they will pick up snakes in their hands, and if they drink any deadly thing, it will not hurt them; they will lay their hands on the sick, and they will recover."
Reflecting on God's WORD
HOMILY ~ Proclaim the Good News
PRAYERS OF THE PEOPLE
THE LORD'S PRAYER
Our Father which art in heaven, Hallowed be thy name.  Thy kingdom come, Thy will be done in earth, as it is in heaven.  Give us this day our daily bread.  And forgive us our debts, as we forgive our debtors.  And lead us not into temptation but deliver us from evil: For thine is the kingdom, and the power, and the glory, forever.  Amen.
Responding to God's WORD
INVITATION TO SHARING OUR TITHES AND OFFERINGS
Through loving deeds and generous acts, we become a blessing to others and give honor to Christ's name.  May the offerings we present be acceptable to God our Redeemer.
*DOXOLOGY
Praise God from who all blessings flow
Praise God all creatures here below.
Praise God above ye heavenly host;
Creator, Christ, and Holy Ghost. Amen.
*PRAYER OF DEDICATION
Your gift of life, O God, is more precious than gold and sweeter than honey to our lips.  Take these gifts of our lives: refine and purify them, and let them be for the world a sign of You goodness and grace.  Amen!
*HYMN ~ For the Fruit of All Creation (all verses)                                                #714
Living God's WORD
*THE COMMISSION AND BENEDICTION                                                         #312
CCLI#1783